We Woof You A Merry Christmas
Yes, these pictures probably are worth a thousand words! So brew up your favorite cup of Christmas cheer and sit back and enjoy the novel. Oh wait! I'm supposed to be a musician. Hmmm. Maybe I'll keep it a bit more brief than that! But if you're wondering about some of the things you see on the CD or its packaging, you're on the right page.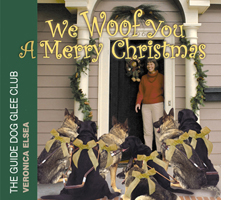 Front Cover
Yes, it's really me. And yes, it's most definitely our house on Laurel Street. We borrowed the Christmas decorations from our neighbors and we did get a few funny looks from passers by as we put up the garnishes and wreath in early September.
The guide dogs were actually photographed in 1999 for my second album, The Guide Dog Glee Club. But Liz Stehman was able to nicely prepare them for this Christmas caroling outing.
One little bit of trivia about the dogs: L'Orange, one of my guides, is the dog who is hiding the ugly shoe on my right foot. But then, he probably covered up many of my ugly secrets during his time with me. Maybe that's why he's looking back at the camera.

---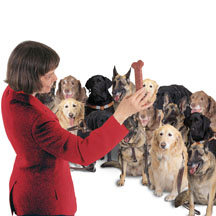 Back Cover

This photo is actually taken from the front cover of the original "The Guide Dog Glee Club" CD. I thought you might enjoy seeing the concert pose, or perhaps the dress rehearsal!
If you'd like to know more about the actual guide dogs in the photos, check out the who done it page.
---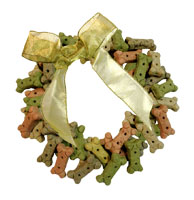 The wreath under the tray

Oh yes, this is a picture of a real wreath. Just ask Liz Stehman's family. Come to think of it, ask her dog!
The wreath was made out of dog biscuits. It was over two feet across as it was laid out on her kitchen table. Oh what a Christmas feast. Not! Sorry to say, in this case, the biscuits went back in the box after the picture was taken. Hmmm, the New Year's party? And I'm sure the bow will have another job soon as well.
If this behind the scenes look at the photos has inspired questions or comments, oh by all means, contact me.
Otherwise, if you're still hungry for knowledge, maybe there are more crumbs and tidbits to snack on.
But if you've finished those, there may still be more to learn about We Woof You A Merry Christmas.
Otherwise, here's wishing you some beautiful pictures from your Christmas celebration this year.
Perhaps we'll meet again on my order page. And don't forget to send your friends to this web site. I'd love to meet them too.
Web site contents copyright © 1999-2010 by Veronica Elsea