We Woof You A Merry Christmas
The Guide Dog Glee Club
Veronica Elsea
Pssst!!! "Do you hear what I hear?"
Dogs! Dogs! All dogs!
Read on for more details!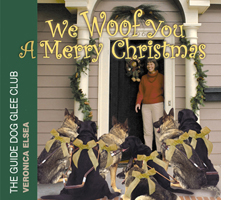 "We Woof You A Merry Christmas" released in November, 2008, features The Guide Dog Glee Club performing sixteen human holiday favorites like you've never heard before! The music is in tune, entertaining and moving. The lyrics---ask your dog!!!
I created these unbelievable renditions of our beloved Christmas songs by recording my and my twin sister's guide dogs at play, then rearranging their words and phrases. Altogether I worked with 513 different sounds. I did not process or alter these sounds in any way. No other instruments, humans or animals appear on this CD! Every sound you hear is a direct quote from a dog! Yes, the bass, the chords, the melody, the beautiful four-part harmony---dogs! Dogs! Only dogs!!
---
The song titles are:
1. Joy To The World
2. I Wonder As I Wander
3. O Little Town Of Bethlehem
4. Santa Claus Is Coming To Town
5. Carol Of The Bells
6. Silent Night
7. O Come, O Come Emanuel
8. The Friendly Beasts
9. Nuttin' For Christmas
10. Lullay, Thou Little Tiny Child
11. Winter Wonderland
12. Shepherds! Shake Off Your Drowsy Sleep
13. What Child Is This?
14. O Christmas Tree
15. O Holy Night
16. We Woof You A Merry Christmas
---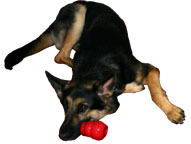 Response to this CD has been tremendous. Human comments have included, "I've never laughed so hard in my life!" "Oh, I can just picture the choir standing there singing this!" "I've never heard anything like this; I can't believe these are just dogs!" "It sounds like the dogs are actually saying words!" "Wow, what nice harmony!" "I never thought singing dogs would move me to tears!"… and more!
Dogs have stared at speakers, barked along, and pestered their humans to remind Santa of all the good things they've done this year.
This is one Christmas CD you'll play again and again.
"We Woof You A Merry Christmas" is available on CD or via direct computer download. CDs can be purchased from my secure online order page. Here you can order CDs for $10 each.
You can purchase a direct download of the entire album or of individual songs from many of your favorite download sites. CDs are also available in many of your favorite stores.
Where else can you buy "We Woof You A Merry Christmas"?
If you'd like to know more, feel free to download and listen to any of the short mp3 excerpts on this page.
You can also read all text and descriptions of artwork found in the CD package.
Once you own this recording, you may want to check out the extra crumbs and tidbits page.
Otherwise, if you haven't already seen it, take a moment to learn about "Guide Dogs, First Hand"
to meet "The Guide Dog Glee Club", to experience Diabetes Melodious, and to peruse the list of new songs, From The Song Banks Of Laurel Creek.
Then I hope to see you on my order page.
Enjoy the rest of this site and don't forget to invite your friends!
If you've never downloaded music from the internet before, and want to know what to expect, you can read all about it by following the link titled Downloading and Saving Audio Files. Then enjoy the music!
MP3 Excerpts
Nuttin' For Christmas mp3
O Little Town Of Bethlehem mp3
Winter Wonderland mp3
We Woof You A Merry Christmas copyright © 2008 by Veronica Elsea

Web site contents copyright © 1999-2010 by Veronica Elsea