Music For February
Waltz In The Major Scent Of F
Veronica Elsea
Have you come back looking for that holiday song I promised? Well, it probably counts as more of an interlude than an actual holiday, but it's fun. Despite all of the jitters, concerns and real problems, once in awhile, we all just need to stop and enjoy life with those we love. So after speaking my mind, I went back into my studio and brought out some old friends. Dogs!!! Yes, I have reunited the Guide Dog Glee Club for one little waltz. Perhaps your own dogs will take a minute and a half to dance with you when they hear this tune! But even if your dogs are couch potatoes, or you only have cats, I am sure you'll enjoy this short break from reality as much as I did. Feel free to share it with your friends and their dogs as well.
However, please don't break from the reality that I do own the copyright to this bit of silliness.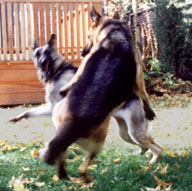 If you have never heard these dogs before, and like this waltz, then consider purchasing my three recordings: "We Woof You A Merry Christmas" "Guide Dogs, First Hand" and "The Guide Dog Glee Club". Then peruse the list of new songs, From The Song Banks Of Laurel Creek.
Of course I'd love to see you on my order page!
If you've never downloaded music from the internet before, and want to know what to expect, you can read all about it by following the link titled Downloading and Saving Audio Files. Then enjoy the music!
Download
Waltz In The Major Scent Of F (mp3, 1.5MB)

Waltz In The Major Scent Of F Copyright © 2003 by Veronica Elsea
Web site contents copyright © 1999-2010 by Veronica Elsea